S2/S3 has one built-in battery inside the speaker.
Charging and play times
The speaker can be used for approximately 6.5 hours on one charge.
The battery takes approximately 2.5 hours to fully charge. S2/S3 does not support quick charge.
Charging methods
S2/S3 can only be charged with a Type-C USB-cable. We recommend using the Sudio cable included in the package, however, other third-party Type-C USB-cables may be compatible too.
Battery level indicators (no cable inserted)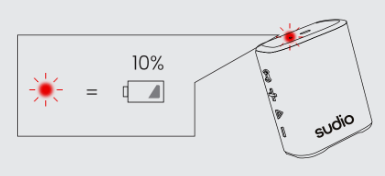 White: 10-100% battery remaining

Red: 0-10% battery remaining
Battery level indicators (with cable inserted and charging)

No light: 100% battery charged

Red (fixed): 0-99% battery charged