N2 has three built-in batteries; one inside the charging case and one in each earbud. The battery inside the case is used to charge the earbuds, while the included Type-C USB-cable is used to charge the case.
Charging and play times
The earbuds can be used for approximately 6 hours on one charge, with up to 30 hours in total before the case needs to be recharged.
Each battery takes approximately 120 minutes to fully charge.
Charging methods
The N2 case can be charged with a Type-C USB-cable, wireless charging is also supported. We recommend using the Sudio cable included in the package, however, other third-party Type-C USB-cables may be compatible too.
Battery level indicators
There is one LED-light that indicates the charging case's remaining level on the front of the case.
The LED lights up when the earbuds connect and disconnect to the case and when there is less than 25% battery remaining.
When inserting the charging cable to the case, the current battery level is displayed for 5 seconds followed by a blinking light, indicating that the case is currently charging.
In some cases, you can also read the battery level on your phone, such as iPhone or Android devices. The level shown is that of the N2 earbuds, not the charging case.
Charging case (no cable inserted)
White: 26-100% battery remaining

Orange: 0-25% battery remaining
Charging case (with cable inserted and charging)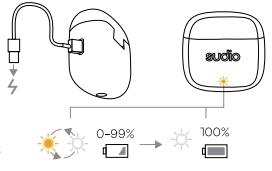 White (fixed): 100% battery charged

Orange/White blinking: 0-99% battery charged