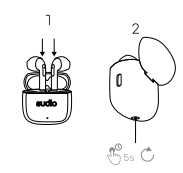 If N2 starts behaving unexpectedly, or if you wish to remove the connection between N2 and the connected device, you can perform a factory reset to restore your Sudio N2 to its original settings. This will reset the connection between your paired devices, as well as the connection between the two earbuds.
Place the earbuds back into the charging case, keep the lid of the case open.

Press and hold the reset button on the bottom of the case for 5 seconds.

The factory reset is complete when the LED light on the front of the case flashes white twice.

Close the lid and allow 1-2 minutes before using the earphones again.
When you hear 🔈 Ready to pair, find your Sudio product in the Bluetooth list of your device, proceed to pair them with your Bluetooth device.