Dirac Virtuo™ turns any standard stereo content into an immersive sound experience with enhanced sound quality.
By creating a spacious, natural soundscape beyond the physical confines of your sound system with accurate sound localization, Dirac Virtuo enables a spatial and immersive sound experience.
How to turn on/off Dirac Virtuo™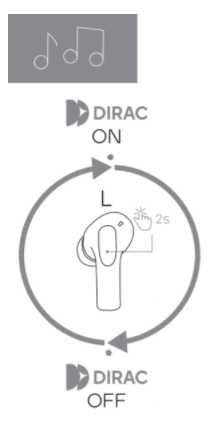 Touch (hold) for two seconds on the left earbud to turn Dirac spatial audio on/off. After 2 seconds the listening mode will change, followed by 🔈 Spatial On.