Femtio has one built-in battery inside the speaker.
Charging and play times
The speaker can be used for approximately 14 hours on one charge.
The battery takes approximately 4 hours to fully charge. Femtio also supports quick charge, restoring 1 hour of playtime after 15 minutes of charging and 12 hours of playtime after 2 hours of charging.
Charging methods
Femtio can only be charged with a Type-C USB-cable. We recommend using the Sudio cable included in the package, however, other third-party Type-C USB-cables may be compatible too.
Battery level indicators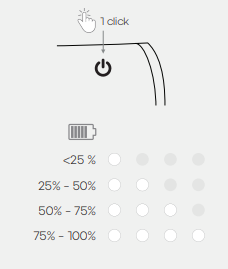 There are five LED-lights right above the 'SUDIO' logo that indicate the speaker's battery remaining level. The four LED lights on the left side indicate the battery status of your Femtio.
If you would like to check the battery status of your Femtio, please press the power button once.
100%: All four lights are on
75% - 99% battery level: Three white lights are on, the fourth one flashes
50% - 75% battery level : Two lights are on, the Third one flashes
25% - 50% battery level: One light is on, the Second one flashes
0% - 25% battery level: One light flashes